You are agreeing to buy the land through owner
FINANCING at $95 x 32 months =$3,040- 0% Interest!

Buy it Now of $190 is for $95 down payment and for the first month's installment.

Thereafter you will make 30 more $95 payments.




Welcome to the Great American Southwest in Cochise County, Az.

Up for auction is a recently visited 2.72 acre vacant property on Irwin St in Pearce, Az . In the below ad you'll see photos from visit in October of 2016 and further into ad other photos nearby. If you're looking for a quiet, peaceful and serene get-away spot for a weekend RV visit or for something permanent off the grid this lot is for you.

There is a lot of history in the County from the Historic theater and Museum of Rex Allen fame in Willcox, famous Tombstone and the gunfight at OK Corral, lovely Sunsites with it's golf course and community of people. There are horses allowed everywhere and gardening is a staple of the county as well. We have a big lot for sale folks.

This area (Pearce) of Cochise County is truly beautiful, very peaceful and friendly.
In the center of Sunsites is a master-planned golf course community having as amenities an 18 hole golf course, six churches, a fire station, restaurants, a library, bank, shopping and a community center. Sunsites is located in a high valley that is predominately agricultural and ranch land.



Sound Reasons to Buy this lot in Cochise County in Sunsites, Az and particularly from seller RURALLAND
(1) Deeded land. ( No homeowner's fees, CCR's or banks)
(2) Affordable cost of living (Utilities and food costs)
(3) Off grid and farm ranch driven population
(4) ''No hurry'' atmosphere
(5) No light pollution by ordinance. One of a kind star gazing.
(6) This state has the most publicly owned land, both federal and state including the Grand Canyon and the Karchner Caverns. The area is known as a bird watching paradise and hunting for deer, elk and bear is common.
(7) Border access to '' duty free items,'' as well as high standard, medical, eye and dental services.
(8) Open carry gun laws and year round hunting.
(9) Proposed expanded border, with deep water port and area economic development funding as well as commercial tax incentives.
(10) Rich south western history. How about fantastic weather. (Ideal for you snowbirds)
(11) The lot is accessible in ANY vehicle
See below county maps and driving directions
This is the road for the lot! ( Irwin St.)
These are photos of the land for sale taken standing on Irwin St.
Exact location of land
County: Cochise
Town: Pearce
Subdivision: Arizona Sun Sites Unit # 3
Parcel Number: 122-06-324-IRWIN ST. ( drive right to the lot with these gps lot coordinates- 31.886032 -109.859341
Block 415, Lot 6
Total Lot Size: 2.72 acres
Property Taxes: app. $37 per year - paid in full for 2017. Buyer responsible for 2018 and forward once land contract is in effect.
Zoning: SR-43 !
Single Family Residence w/ 20 foot setbacks and/or mobile home permitted.
Along with your home there is plenty of room. Stays of 15 consecutive days or less do NOT require a permit. Temporary occupancy of one RV in conjunction with a permitted principal use up to six months in a calendar year with a required Temporary Use Permit. Temporary occupancy of RV's in conjunction with the construction of a residential or nonresidential permitted principal use
Utilities Available: This is an ideal off the grid yet not far from many of the main roads in the area
The following recommendations are from area residents physically living in the county. We speak with these county dwellers on a regular basis. They are the best sources for county living knowledge.
Recommendations for this lot;
1) Sewer -septic system
2) Water, particularly drinking water, should be hauled and stored in a holding tank. Digging for a well is an option but you should only use that water for bathing and washing dishes. This goes for the whole county.
3) Power- this is an off-grid- However there are many sustainable alternatives when you are ready to build on your lot-solar or wind power works and is the recommended choice. However you can fuel an entire home or trailer with propane like my buyer in Willcox.
In general you do not want to connect to power in the county. When the power goes out so do you! Alternative methods, such as listed above are safer, cost you less and are highly reliable.

Permitted uses;
Wind Energy Systems and Solar Energy Systems, Solid fences or walls six feet in height or less. Setbacks do not apply; no permit required unless greater than three feet in height on a corner lot. Well houses, in a fixed location. Setbacks do not apply; no permit required.
The following are relevant maps, photos and pictures of the land. We have just obtained new photos at the land from the premier Arizona ebay seller who visits this area frequently. Rest assured, you are buying what you see in the photos. Photos of land are actual representations of the lot for sale. There are also photos included from other sites visits further below.

Sunset Trail is on way to the Irwin St. The plat map says Earp but has been ''renamed'' Sunset Trail.
Irwin St.
Interactive google map view of Pearce Rd and highway 191 East of lot. Click and zoom around for easy diligence!

View Larger Map
These are actual photos near the lot for sale
Pearce Rd approaching Sherwood Rd.
Street sign at Sherwood Rd. and Pearce
Sunizona Plaza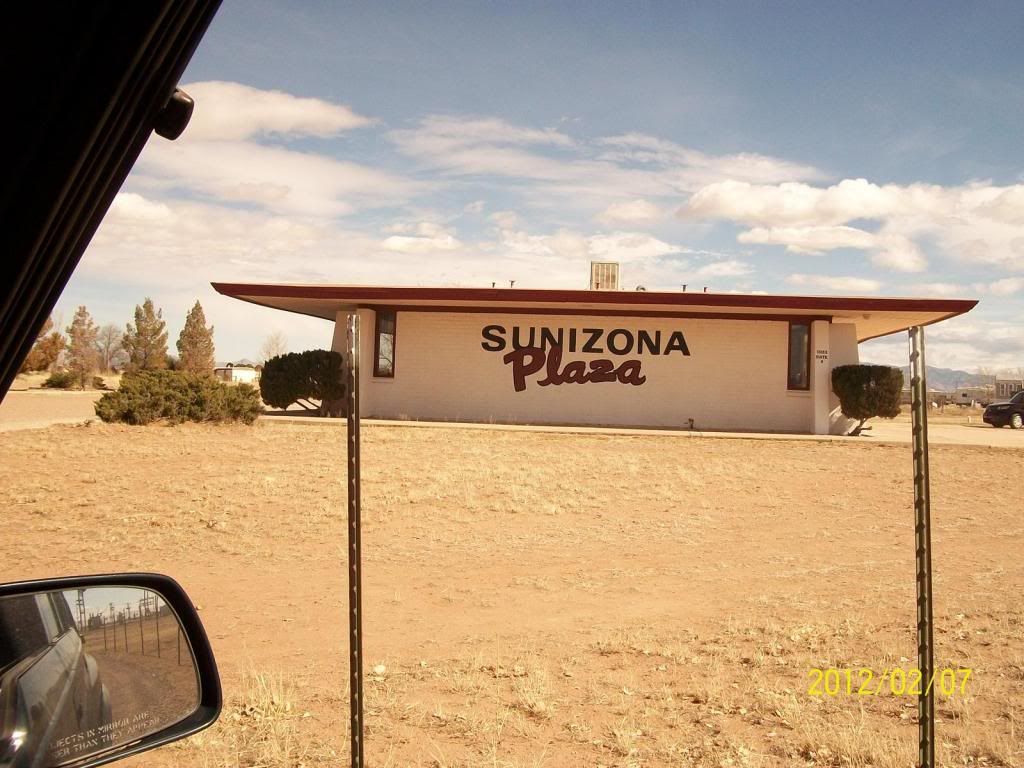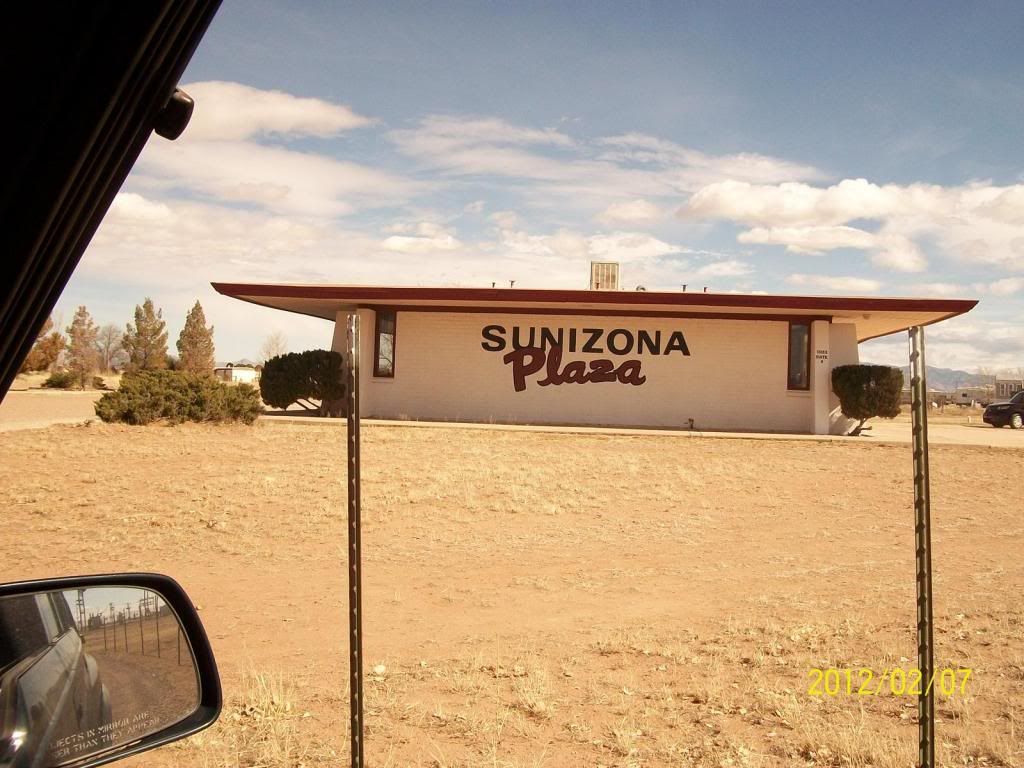 Nearby Building Supply Store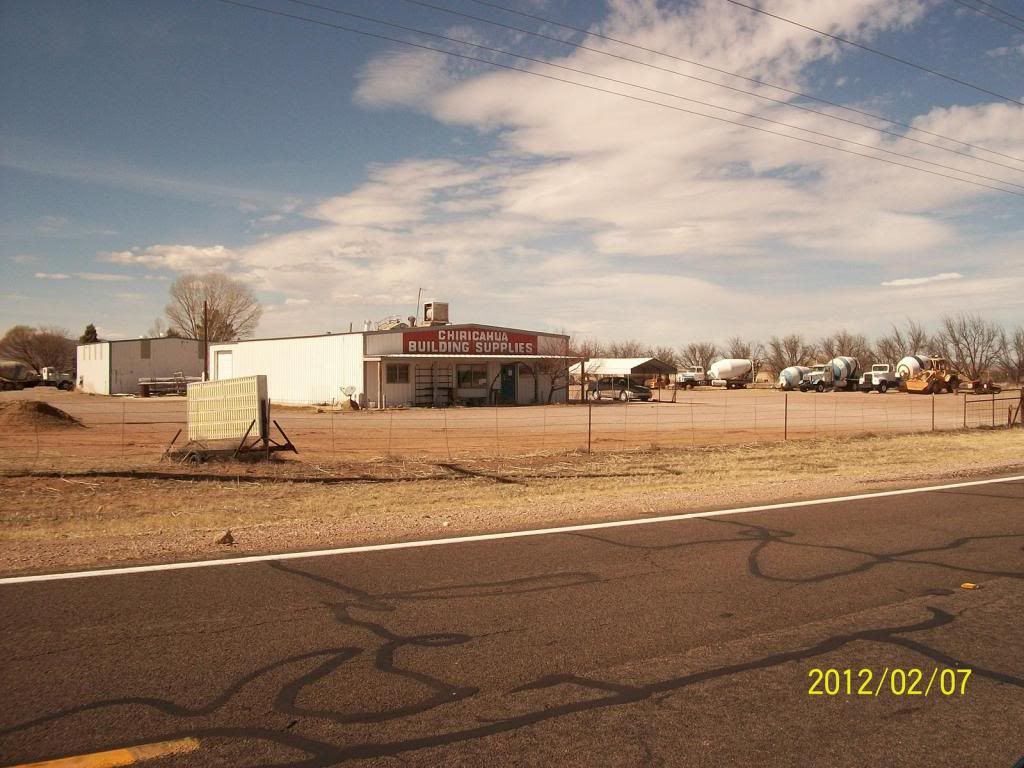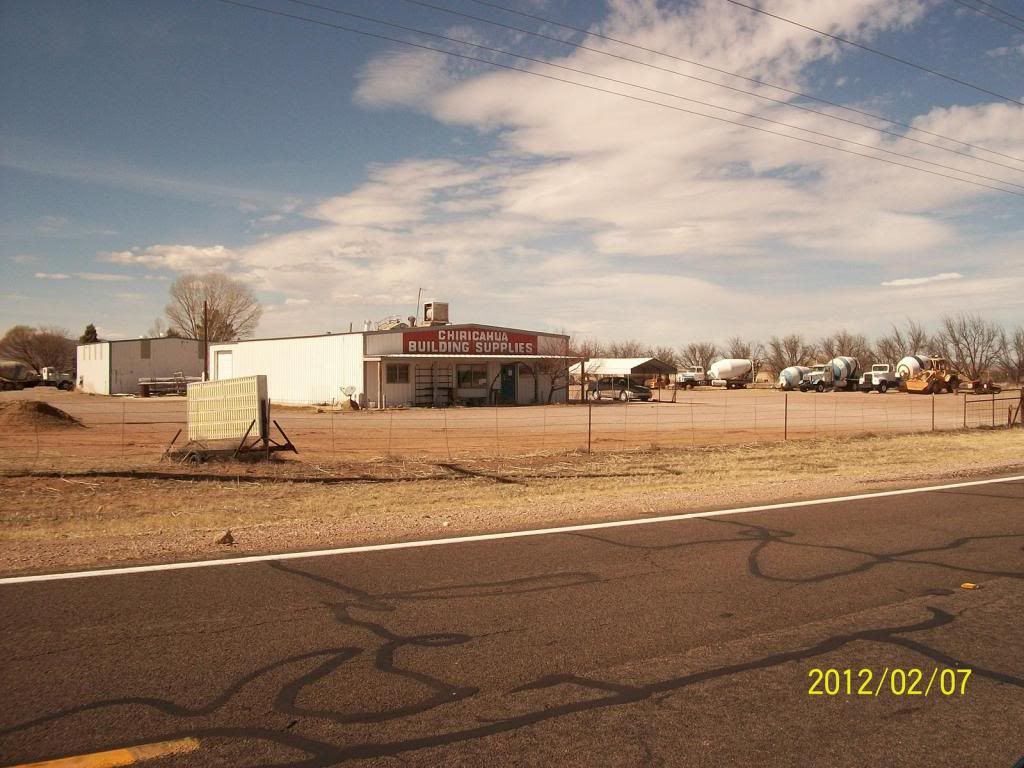 Local Commerce
More information about the area...

A rural area where folks wave a friendly greeting, take time for friendly conversation…or lend a helping hand if needed.

PEARCE is an old mining town, founded in 1893 and was the last of Arizona's gold and silver stampede towns. The Commonwealth Mine made Pearce a boom town with a population of 3,500. At that time the mine produced more gold that any other mine in the southwest. Although Pearce is considered a ghost town, there are still several families living there. The original school is still in use today with recent additions. A scattering of deteriorating adobe and frame buildings remains in the Pearce along with the old cemetery. These seemingly negative attributes make Pearce a viable opportunity for appreciation on your investment.

ONE MILE NORTH of Pearce is the attractive community of Sunsites, with 1,500 people whose well-maintained homes surround its championship 18 hole golf course which graces this area with its greenery and duck ponds. A medical clinic and a fire and rescue department are always ready if needed. A convenience store, restaurants, library, churches and a new community center are accompanied by many diverse businesses. Large apple, peach, pecan and pistachio orchards thrive here, as well as many small family sized orchards and vegetable gardens. Almost anything grows here, from grapes, melons, and tomatoes, to peanuts, rhubarb, strawberries and raspberries. Farm produce such as wheat, milo, corn, alfalfa, chili peppers, pinto beans, cotton, popcorn and feed corn are also grown in the valley. Sunsites lies 85 miles southeast of Tucson and sits at an elevation of 4,500 feet with spectacular views of the Cochise Stronghold, Dragoon Mountains, and Chiricahua Mountains.

GHOST TOWN TRAIL begins at Pearce and winds its way through the ghostly remains of the town of Courtland and Gleeson, then on to Tombstone, '' The Town To Tough To Die''.

WILLCOX AND BENSON are each a half-hour drive away and both offer fully equipped hospitals. Tucson, which is approximately one and one-half hour's drive offers all the amenities of a large city. Douglas, Arizona and Agua Prieta, Mexico are an hour's drive and provide that ''South of the Border'' experience.

WEATHER AND HEALTH BENEFITS. Mining, Apache wars and the railroad expansion may have created the towns in this mountain valley, but the elevation of 4,100 to 5,200 feet gives the type of year round pleasant weather that has kept people coming to the area year after year. The elevation prevents the extreme summer heat of Tucson and Phoenix while winters are pleasantly comfortable with an average high of 61 degrees in January. The valley is considered an excellent health spot due to pureness of air, low humidity, elevation and moderate year round climate.



This video shows the recent effort made by the residents and non residents of sunsites and the effort made to restore the golf course.




Mountain Ranges completely
surround the Sulphur Springs Valley...

TO THE NORTH is Mount Graham with a peak elevation of 10,713 feet offering an observatory as well as camping and fishing. Apache Pass borders the Dos Cabezas Mountains, in the NORTHEAST. It was the scene of many battles between the U.S. Army and the great Indian Chief, Cochise. Other skirmishes located there included renegade Geronimo and his band of Apaches.

ON THE EAST SIDE of the valley in the center of the Chiricahua Mountains is the Wonderland of Rocks, a National Monument for the past sixty years. The highest peak is 9,795 and the area is internationally famous for its exceptional variety of birds. Hiking trails bring you into Echo Canyon and through three ecosystems. Still further south are Turkey Creek and Rock Creek, an area of seasonal streams, large trees and magnificent views. It abounds with deer, javelina, dove, quail, ducks and geese. The Swiss Helm Mountains are also just east of these lots. Click Swiss Helm Mountains for some great photos and a description of hiking the trail.

TO THE WEST are the majestic Dragoon Mountains, site of Cochise Stronghold, an area which is a natural wooded fortress surrounded by spectacular cliffs that enabled the Apache leader, Cochise and his small band of warriors to hold out against the U.S. Army's thousands for several years. This area now draws sightseers, campers, hikers,nature lovers, artists and photographers. Adjacent to the Dragoons is Texas Canyon with its extraordinary rock formations. The Amerind Foundation and Museum is located there.

DIRECTLY TO THE SOUTHWEST lie the Mule Mountains and the historic old mining town of Bisbee, site of the famous and colorful Lavender Pit Turquoise Mine.

Normally, building a home can be an expensive proposition for most. There are many inexpensive alternatives available today to the traditional methods of structure building and design.
If you want to have a nice looking home and save some dough, MODULAR HOMES are built in the factory and then assembled on your land site. Here are some examples of modular style homes: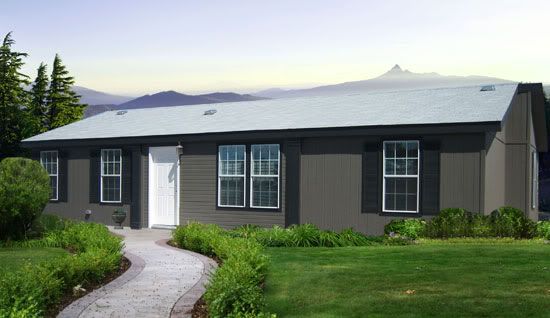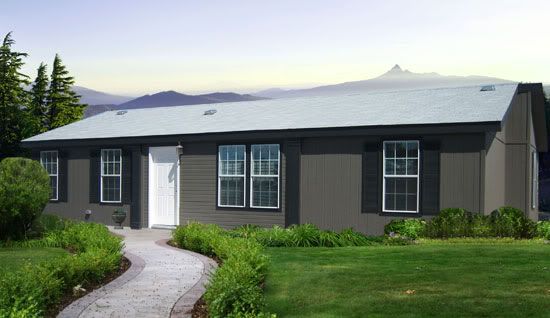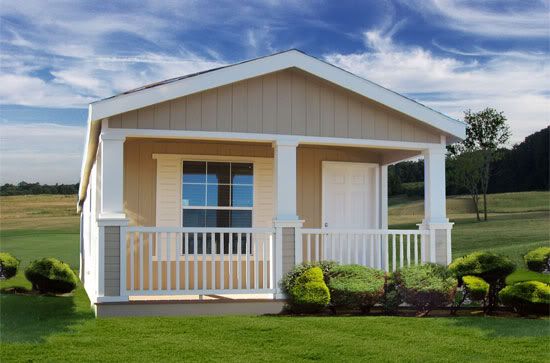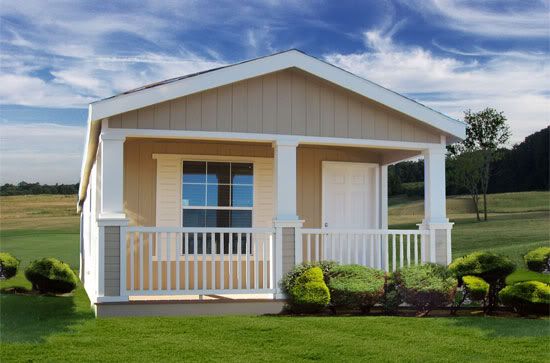 Modular Home Distributor in Willcox
Alternative living - Economically efficient, ecological and environmentally helpful:


Or build a home like my friend in Willcox, Az. These are pictures of the beginning stages of his home. You can do the same and it's very affordable. A 500 gallon propane tank can fuel an entire home or travel trailer. The white tank is a 1500 gallon water tank. Water can be delivered or picked up in town. These are alternative ways to live on a place that is partially off the grid.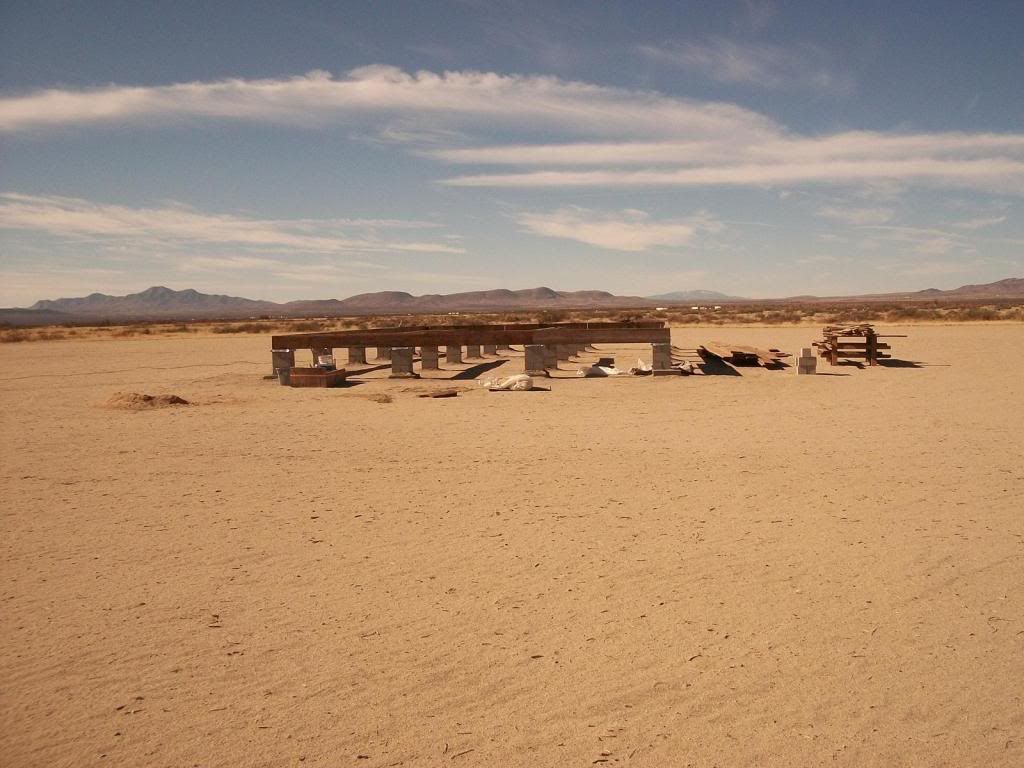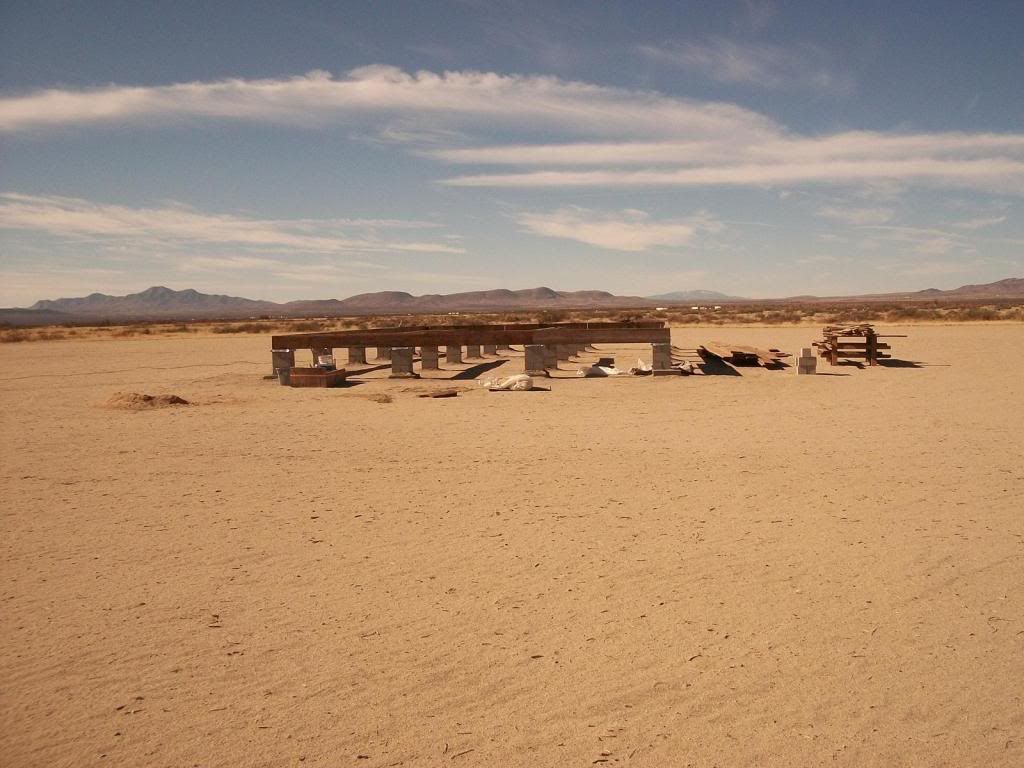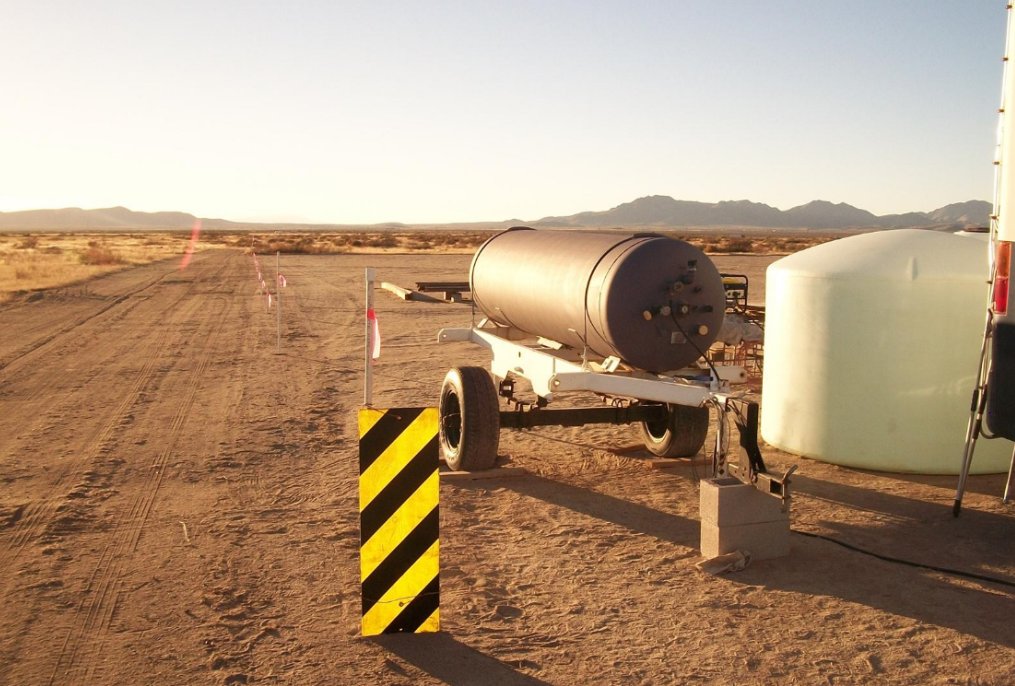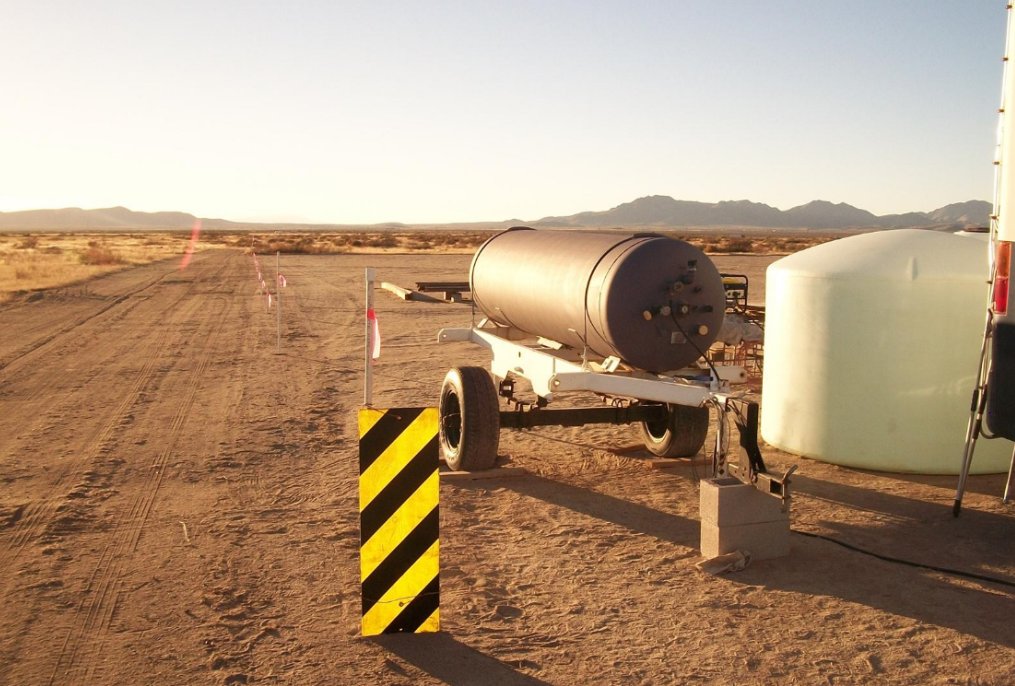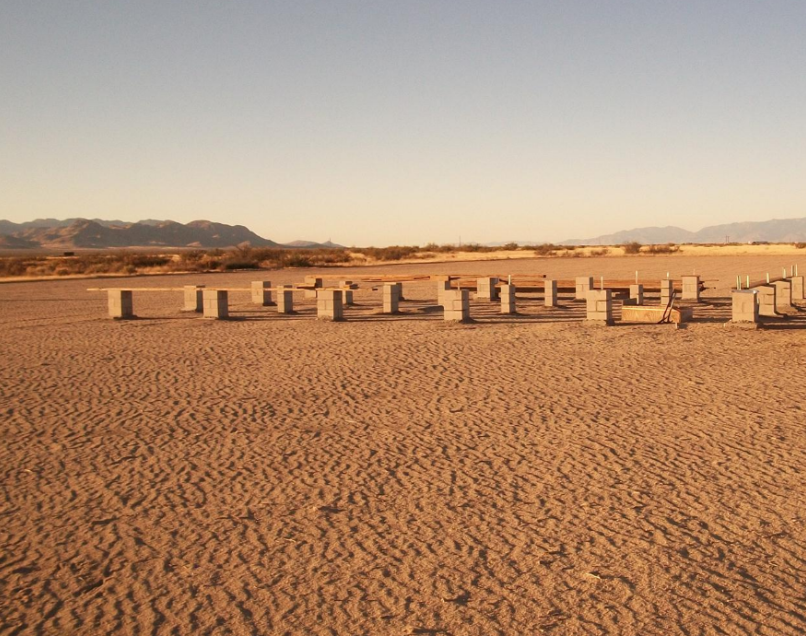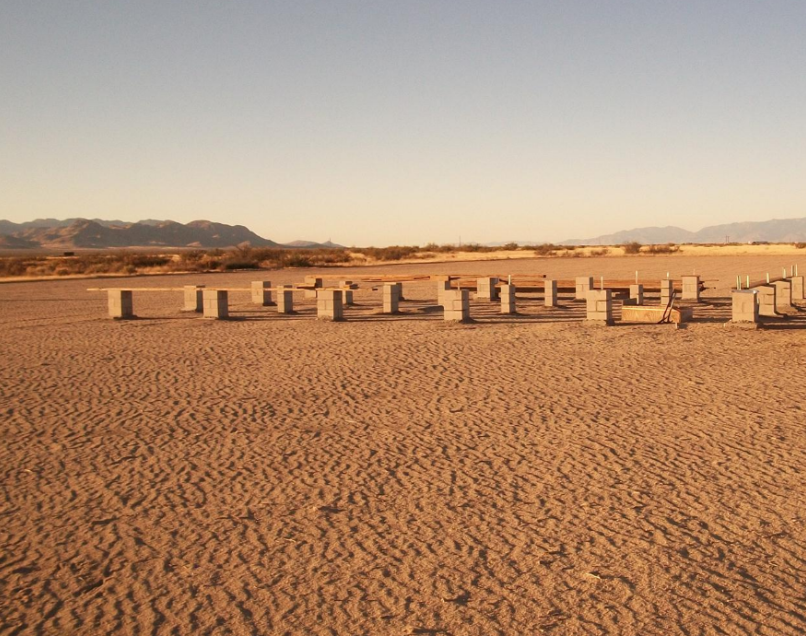 Terms and Conditions of Sale
Summary:
You are agreeing to buy the land by
FINANCING through a land contract for deed, with ZERO PERCENT INTERESTreceive Warranty deed AFTER all payments have been completed.
You are agreeing to buy the land through owner
FINANCING at $95 x 32 months =$3,040- 0% Interest!
Buy it Now of $190 is for $95 down payment and for the first month's installment.
Thereafter you will make 30 more $95 payments.
$190 due ue within 24 hours by pay pal. Winning bid to come off total purchase price.

Details:

Ruralland does not do credit checks. There are no bank qualifications. We sell our land on the honor system. The winning bidder must pay by pay pal within 24 hours of auction close. If you decide to finance, please specify to us in advance after you bid your payment plan choice. After your payment clears we will mail you a contract for deed in duplicate and plat map of the subdivision.

Anyone who bids is required to submit their name, address, phone number and email address. We would like your vestment information if you place a bid. Thanks for understanding. We promise that you will see a speedy, smooth, amicable and pleasant transaction. If you place a bid on this land you are acknowledging that you have read the entire ad, understand the terms and are ready to pay after the auction closes.

Since we do not know your intentions for this land (investment, building, resale, etc.), and as with any transaction, please use due diligence. Due diligence should include, but is not limited to, your physical inspection of the property, research of the property, and checking county and state requirements to make sure the parcel you are purchasing is suited for your personal intended use.
All properties are sold "as-is" and information contained in this listing has come from very reliable sources and is accurate to the best of my knowledge. We make no guarantee, expressed or implied, as to the condition, location, accessibility, terrain or information contained in this listing. We are here here to assist you. Please ask all questions prior to bidding.

Questions?

Please write to me via my eBay About Me page or call 516-643-4194

Thank you,

Jason Kaplan
Owner
Ruralland Usa LLC.






Good Reasons To Own Land



Land ownership is a safe investment for your portfolio because it tends to accrue in value over time. It is not subject to huge losses in depreciation.


Land is or will always be desired in times of economic boom or bust. This makes it a good long term investment.


Possible tax benefits.


Land is not subject to vandalism and does not require maintenance, i.e. no tenant problems, no repairs, no utility bills, no painting or plumbing problems.


You don't need to live near your land to reap the benefits of being a land owner.
Assembled using the FreeForm Builder with EAPH Help and Hosting